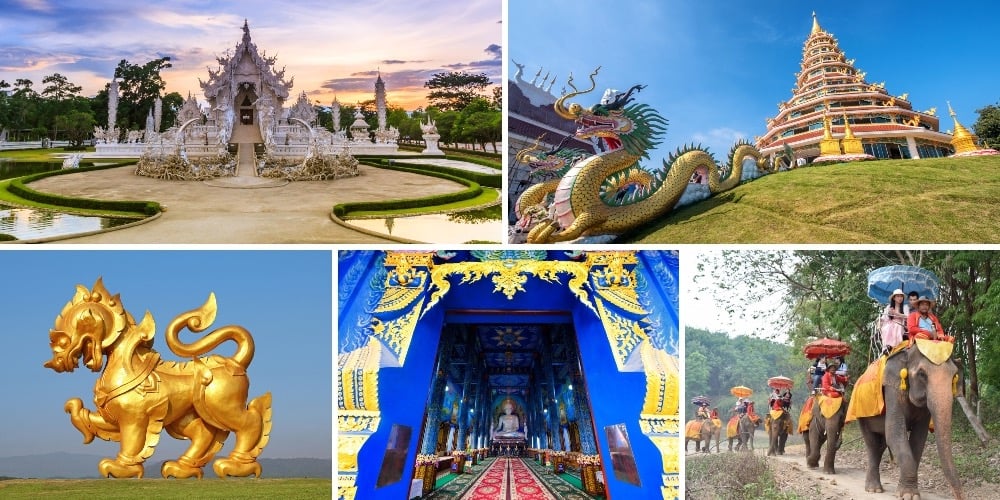 Chang Puak Camp – Singha Park – White Temple – Blue Temple – Hyua Pla Kang Temple
Chang Puak Camp
Chang Puak Camp or "White Elephant Zoo", you can experience with a variety of activities offered by Chang Puak Camp. Not only elephants but the camps also offer some exciting activities such as elephant talent show, ATV, BB gun and etc. You will enjoy and have a good time at Chang Puak Camp. And also help Thai elephants to have a better life.
Rong Khun Temple
Rong Khun Temple or "Wat Rong Khun", perhaps better known to foreigners as the White Temple, is a contemporary, unconventional, privately-owned art exhibit in the style of a Buddhist temple in Chiang Rai. It is owned by Chalermchai Kositpipat, who designed, constructed, and opened it to visitors in 1997.
Singha Park
Scenic park in a farmlike setting with tea plantations, orchards, trails, a tram & a petting zoo.
Blue Temple
Rong Sua Ten Temple or "Blue Temple". Previously only a small temple. This temple is not outstanding. But, one day, technician named "Nok" is a student of Ajarn Chalermchai Kositpipat and had worked at Wat Rong Khun start renovating the temple. The new temple has been refurbished with the use of unique artwork, with shades of blue, and golden motifs. Until now, if you talk about Chiang Rai. One of the attractions that Thai people and foreigners are most likely to travel to is Wat Rong Sua Ten or Blue Temple, which is proud of the community and the people of Chiang Rai is no less than white temples and black houses ever.
Hyua Pla Kang Temple
Huai Pla Kha temple is a beautiful temple in Chiang Rai, located on the hill. And there are many hills around the temple can see the beautiful scenery. The highlight of this temple is "Pob Chock Pagoda", which is a 9-story pagoda, Chinese Lanna Art Mix The red roof features a statue of dragons on both sides of the stairs. Surrounded by 12 small zodiac temple, Huai Pla Kha is a temple that the villagers respect and believe that if anyone has come to visit with heaven. Inside the pagoda is a statue of Guan Im, carved from a large wood. Since this temple has been abandoned since ancient times. So, we don't know the exact history. However, the abbot, Pob Chock, has restored and built many of the facilities, until became the centre of the spirit of Chiang Rai again.